01mar20:0002(mar 2)06:00Maha Shivaratri
Course Details

Join the entire Agama community for a powerful all-night ritual of homage to Shiva .

Experience the divine mystery of existence and cultivate a spirit deep devotion.
"Homage to Shiva, who assumes wonderful and diverse aspects:

Although Magician, You are nevertheless true;

although transcendent, You are active;

although subtle, You assume the appearance of the Universe!" – Utpaladeva
In India, Maha Shivaratri is a traditional day of worship dedicated to Lord Shiva, or God, literally meaning "the Great Night of Shiva."
Lord Shiva is The Great Mystery. During this night we are going to meditate on the following faces of Shiva:
1- Mayavin / Shiva the magician
2- Pasupati / God of Grace
3- Umapati / Lover of Umã
4- Trayambaka / Virupaksa / 3rd eye Shiva
5- Dhurjai / Kapardin / Ascetic
6- Bhairava / Shivaratri- Mystical Night
7- Nataraja / Dancer
8- Dakshinamurti / Teacher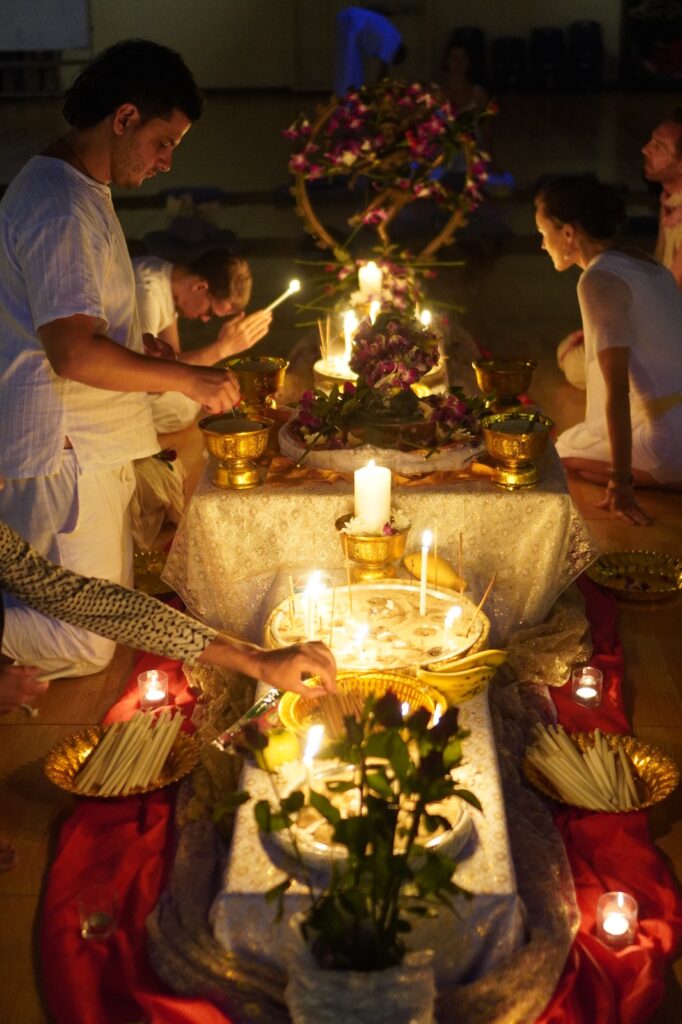 As Shiva is the "Great Guru of the Yogis," especially in the Kashmiri Shaivist tradition that is such an important part of the teachings in the Agama system, on Koh Phangan we celebrate this event with a gathering of the entire community, a ritual of homage to Shiva, meditations, and bhajans.
In the Tantric tradition, Shiva is the name given both to the inexpressible consciousness, the transcendent, as well as to the personal manifestation of the divine in its masculine aspect.
The date changes year by year, always corresponding to the new moon and falling sometime in late winter or early spring.
Although the gathering continues until dawn, all are invited to join at any point and leave when necessary. All participants are asked to wear white and arrive in silence, with respect for the space and those nearby them in the hall. And of course, it's said that the real magic of the evening happens late into the night, when only the most dedicated ones with the strongest aspiration remain.
Join us for this all-night vigil, led by Swami Vivekananda Saraswati and senior Agama Yoga teachers, as we cultivate devotion through meditations, ritual offerings, bhajans, and more.
Get inspired by listen Swamiji talk about Mahashivaratri!
See you there! Free Event!
Student's Testimonial:
"I visited the Mahashivratri honoring night @ Agama center(Ko Phangan) yesterday on a hunch. Wow, what an amazing experience

Together we explored the different faces of Lord Shiva through meditation, chanting and worship…offering at the shrine of Lord Shiva
And as said it is indeed, the more energy & devotion you give at the shrine, the more you get. The energy was sky-high from the start! A Natural High! It carried me through until sunrise @ 06.30

In honor of Lord Shiva here are the aspects I remember that we meditated on, and many beautiful images that resonante with me now

Thank you once more to Agama center for this breathtaking experience. I hope to have the opportunity the coming years to experience Mahashivatri with a group like this!" Thomas.
Time

(tuesday) 1 march 20:00 - (wednesday) 2 march 6:00 (GMT+07:00) View in my time
Location

Agama Yoga Campus
Teachers
Muktananda

Muktananda

Since 2003, Muktananda has been teaching Agama Yoga. He became a Yoga teacher to inspire other people, and to help them evolve on their spiritual path. Yoga teaching is an evolutionary path for him, too. He prefers an action-oriented spirituality and believes that, amongst many such actions, teaching Yoga is very noble, good, and beneficial to all beings. Teaching Yoga is a part of his Dharma, in terms of service to humanity and Shiva. Thousands of people have greatly benefited from his love, light, care, and no-nonsense style of teaching. He transmits his profound knowledge and experience in an accessible way, and is beloved for his humour, playfulness, and dedication.

Swamiji

Swamiji

The founder of Agama Yoga, Swami Vivekananda Saraswati, or "Swamiji" to his students, is a passionate and dedicated teacher of the authentic lines of Indian and Tibetan Yoga, which are rapidly becoming lost in today's "spiritual marketplace." In 1998, Swami Vivekananda took full sannyasa vows at the Kumbha Mela in India, at which time he was ordained; his diksha guru bestowing upon him his new and famous name, which means discriminating insight. Although restrained by a modesty that usually prevents him from discussing it, Swamiji has reached high states of spiritual realisation and samadhi. From this place of knowing, he offers a proven path to spiritual accomplishment in well-articulated concepts. He is one of the few Western Tantric Teachers well-versed in Kundalini Yoga and Gnostic Christianity, and he specialises in the intensely spiritual Tantra Yoga of Kashmir Shaivism. Swamiji's guidance is felt in many ways at Agama: from in the classroom, presenting Yoga as a living science, based on common sense and joy; to administering various healing techniques, as a practitioner of chiropractic and other healing methods; to lecturing on esoteric Yogic subjects in weekly Satsang; or discussing personal life problems with pupils, possibly in their own language (as he speaks five). Swamiji inspires by personal example and examples from history, quoting uninterruptedly from scores of ancient texts and spiritual masters – all with a great sense of humour and unmatched character.