21feb(feb 21)17:0026(feb 26)20:00The Yoga of the Heart
Course Details

This beautiful retreat represents an opportunity to immerse yourself in the powerful path of Bhakti Yoga, the path of the heart. Awaken the spirit of devotion in your heart and explore how to direct this devotion toward self-realization.

Bhakti Yogis live their whole lives infused with devotion, and thus these teachings provide a unique path for integrating Yoga into life off the mat and outside the Yoga hall. Learn how to access a state of bhakti in your Yoga practice, meditation, and daily life. We will also explore how to enhance devotion in interpersonal relationships. To attune to the state of divine love, we will practice devotional rituals for identification with great masters of devotion. There will be lectures, bhajans, Hatha Yoga to open the heart, and the invocation of Shiva through recitation of the 108 names of Shiva.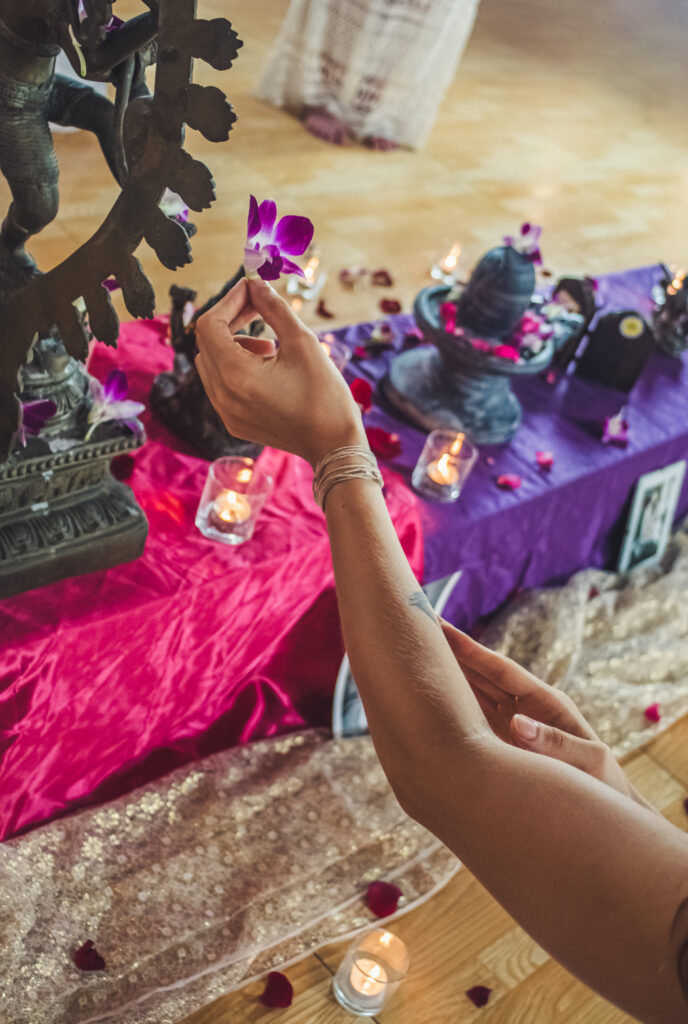 This retreat serves as a wonderful lead-up to the Agama's annual festival of Mahashivaratri, which is included as part of the retreat. Bhakti students will be beautifully prepared for a deeper experience of this special event.
What you will learn:
Get a clear knowledge and understanding of the marvelous teachings & path of Bhakti Yoga.
Learn many powerful and devotional Practices, that will help you open the deepest part of your heart and direct you sweetly towards your devotional and loving nature.
You will learn simple rituals that can be practiced daily in your life, invoking Shiva through the 108 Names as well as bursting your heart open through the marvelous & mystical Poetry from high enlightened Masters.
We will be learning & practicing the Art of Prayer, how to identify with some of the Bhakti Yogis of India and dive deep into the mystical realms of the heart through Hatha Yoga, designed esp. for the awakening of the heart & realization of the Spirit.
How to enter your devotional nature through the Art of Bhajans & Mantras.
To access God & your very intimate Self through the beautiful Path of Devotion, Love, Surrender, Kindness, Forgives and Self Sacrifice.
How You Will Benefit:
Develop devotion for the divine as a path to self-realization.
Learn to access a state of bhakti in daily life, Yoga practice, and meditation.
Enhance the sense of devotion in your interpersonal relationships.
Time

(monday) 21 february 17:00 - (saturday) 26 february 20:00 (GMT+07:00) View in my time
Schedule
We are very happy to provide video recordings for most of our workshops, but we strongly recommend attending them LIVE and using the videos as support. As the method used for the recordings is Zoom, we don't guarantee high-quality performance. Recordings are available during the course and for one week after the workshop has finished.
Teachers
Bhavani

Bhavani

As a young girl, Bhavani sought secrets of the unknown. She was easily moved to contemplate the deeper meaning of life. Thus, she pursued the mysteries of the forest, stars, and sky. Spending her days in nature, she felt her calling towards a way of life that was very different to the usual. The tests of youth led her to Tantra as a teen, to embrace her sexuality (which was fragile, and in need of nourishment and healing). Meeting Agama and her Guru Swamiji Vivekananda (2011), was a huge turning point in her life. She transformed, and felt exhilarated, by the profound teachings and tradition of Tantra Yoga. Additionally, Bhavani is a good and loving mother to a wonderful child, who she gracefully grows up with love, spiritual principles, and wisdom. She has dedicated her life, towards teaching Spirituality, and helping to serve others - so they may evolve on this path. Bhavani is a Senior Teacher of Agama Yoga.

Muktananda

Muktananda

Since 2003, Muktananda has been teaching Agama Yoga. He became a Yoga teacher to inspire other people, and to help them evolve on their spiritual path. Yoga teaching is an evolutionary path for him, too. He prefers an action-oriented spirituality and believes that, amongst many such actions, teaching Yoga is very noble, good, and beneficial to all beings. Teaching Yoga is a part of his Dharma, in terms of service to humanity and Shiva. Thousands of people have greatly benefited from his love, light, care, and no-nonsense style of teaching. He transmits his profound knowledge and experience in an accessible way, and is beloved for his humour, playfulness, and dedication.
Tickets