19julAll Day15augEvent OverFeaturedHatha Yoga Level 1 - Online - Start Any Day!
Course Details

Level 1 is the cornerstone of not just the Yoga Curriculum, but Agama as a whole.

In person, it is conducted over a month. Yet, many prospective students are unable to dedicate an entire 30 days (120 hrs) to the foundational course we offer. Thus, to increase accessibility, Agama created the "Level 1 Online Program".

The requirements of the Modern Age, on the time of an individual, are exhaustive. Thus, in this program, each student can adjust their attendance and spiritual practice to their own schedule. The time it takes to complete the program is moulded individual-to-individual.

The program is divided into 4 modules. Each module accounts for 30 hours of yoga lectures and guided practice. Each individual module is split into 6 units. In each unit, there are 3 classes:
Explanation of Asana + Spiritual Practice (Recommended. Morning)
2 Hrs of Spiritual Practice (Recommended. Afternoon)
Theory Lecture (Recommended. Evening)
Each class can be studied at a convenient pace. Once access to a module is given, there is no imposed time limit for how long the duration until completion shall be. Classes can be repeated as many times as a student sees fit. Yet, it is recommended to complete the classes in the suggested order. The order has a purpose, in aiding to facilitate higher understanding. Each class builds upon the insight already provided in the previous class. Therefore, it is deeply recommended to follow the order that has been advised. 1 hr/day yoga study, is advised as the minimum, whilst enrolled on the course. Yet, this is not compulsory.
The wisdom imparted in this program, goes far beyond the instruction of how to perform physical postures (asanas). It will guide you through: the activation of energy centres (chakras) within your body, the control over prana (pranayama), the practice of authentic meditation (controlled expansion of the mind), and shall immerse you into a complete system of yogic philosophy.
The practical techniques, and knowledge provided in this course, shall give you a deeper understanding of yourself. Your will-power shall improve, as shall your physical strength. You shall create healthy new habits, whilst discovering emotional balance and inner harmony.
What You Will Learn:
40+ Lectures on yogic topics (chakras, lucid dreaming, mysteries of the mind, etc).
20+ Asanas that harmonise body, mind, and spirit.
Meditations of Kashmir Shaivism.
Sun Salutations, "made Tantric".
Purification techniques, for body & mind.
How You Will Benefit:
Self-mastery over your body & emotions.
Regain balance within daily life, healing from stress and diseases.
Manifest your goals and desires.
Transform your perspective.
Understand the essence of authentic yoga.
Students testimonials:
"Joining level 1 was a life-changing experience in a good way. I am doing yoga now for several years but now I understand what yoga really is. I loved the quality and how the teachers taught us traditional Hatha yoga while focusing on the chakras. I went over the years to many yoga schools on Koh Phangan but no one had this knowledge like Agama. I am so happy to find this school. Thank you, Agama!" Sebastian, Germany.
Course Requirements:
Watch the Free masterclass about Level 1 - What is Yoga? by Muktananda.
Time

July 19 (Monday) - August 15 (Sunday)(GMT+07:00) View in my time
Location

Private Facebook Group
Schedule
Each class can be studied at a convenient pace. Once access to a module is given, there is no imposed time limit for how long the duration until completion shall be. Classes can be repeated as many times as a student sees fit. Yet, it is recommended to complete the classes in the suggested order.
Teachers
Amritesha

Amritesha

Amritesha grew up in a very loving and protected environment, in Germany. An early death in the family, led to him investing his time into profound personal study. The topics he researched were Mysticism, Philosophy, and World Religion. At this time, he simultaneously developed a passion for both the violoncello, and the grand piano. Nevertheless, his affinity to Physics, led to him pursuing a university degree. After receiving his Ph.D, he worked in different high-tech companies. First, as a scientist. Later, as a strategic manager. At this point, the enjoyment which stemmed from attempting to understand the universe as a whole, introduced change into his life. Amritesha's marriage dissolved. Onwards, he delved into the mysteries of psychic powers, energetic massage, and numerous forms of yoga. It wasn't until some years later, that he found Agama in Thailand.There, he found so much love, inspiration, and depth, that he decided to stay with this path as his principal and only focus. He became a yoga teacher, completed all 23 Levels of Agama, and continues his studies with the deeper aspects of Tantra Yoga.

Bhavani

Bhavani

As a young girl, Bhavani sought secrets of the unknown. She was easily moved to contemplate the deeper meaning of life. Thus, she pursued the mysteries of the forest, stars, and sky. Spending her days in nature, she felt her calling towards a way of life that was very different to the usual. The tests of youth led her to Tantra as a teen, to embrace her sexuality (which was fragile, and in need of nourishment and healing). Meeting Agama and her Guru Swamiji Vivekananda (2011), was a huge turning point in her life. She transformed, and felt exhilarated, by the profound teachings and tradition of Tantra Yoga. Additionally, Bhavani is a good and loving mother to a wonderful child, who she gracefully grows up with love, spiritual principles, and wisdom. She has dedicated her life, towards teaching Spirituality, and helping to serve others - so they may evolve on this path. Bhavani is a Senior Teacher of Agama Yoga.

Carla

Carla

Carla 'began teaching' as a little girl, always wishing to share what she found meaningful and transformative. Initially, she was prone to all physical activities. She practiced gymnastics throughout her childhood, giving her a wonderful awareness of her physical body. Carla was also a committed Christian practitioner. Yet, as she continually sought connection through touch, she found herself frustrated with religious dogma surrounding sex. Thus, she became an Atheist. She left her home country to travel overseas, and an inner journey began. After four years of travelling and living abroad, she was guided to Agama. She came in search of Sexual Tantra, and the discovery of meaningful relationships. The first lecture she attended, was Isvara Pranidana. She felt so touched, that she then knew she had found her place in the world. Bhakti Yoga, Hatha Yoga, and Sexual Tantra, are Carla's favourite tools to access the Divine.

Leela

Leela

Leela has taught Tantra & Spirituality, since 1995. She first learned to work with energy, whilst still young. Ever since, she has dedicated her life to understanding the connection between body, emotions, and mind. She holds a Master's Degree in Philosophy, and Academic Studies in Psychology & Sexuality. Agama played an important role in her achievements, and for this reason, she decided to live and continue her evolution in Koh Phangan, Thailand. Her spiritual mission is to spread the knowledge of Spirituality, and to help those who have a curiosity regarding it.

Lucila

Lucila

Lucila's spiritual journey began in her early childhood, at a Catholic School in Buenos Aires, Argentina. As a child, she was fascinated with Churches and Saints. During her adolescence, she faced the temptations of living in a big city, and lost her faith on the path. After many travels, studies, and an ardent inner search, a dear friend told her about Agama. Since then, she has never left. She found the true purpose of her life, under the guidance of her beloved Swamiji. Now, she is very enthusiastic about sharing these wonderful spiritual teachings with the world.

Muktananda

Muktananda

Since 2003, Muktananda has been teaching Agama Yoga. He became a Yoga teacher to inspire other people, and to help them evolve on their spiritual path. Yoga teaching is an evolutionary path for him, too. He prefers an action-oriented spirituality and believes that, amongst many such actions, teaching Yoga is very noble, good, and beneficial to all beings. Teaching Yoga is a part of his Dharma, in terms of service to humanity and Shiva. Thousands of people have greatly benefited from his love, light, care, and no-nonsense style of teaching. He transmits his profound knowledge and experience in an accessible way, and is beloved for his humour, playfulness, and dedication.

Yogita

Yogita

Yogita was born and grew up, in Israel. Since a young age, she performed gymnastics, and this gave her a good awareness of the physical body. She received her Bachelor's Degree in Physical Education, in 2003. After a long unsuccessful spiritual quest in India, she was blessed to find Agama, in Thailand (2006). Thereafter, she committed herself to the practices whole-heartedly, as that is what her soul was longing for. In 2007, she became an Agama Yoga Teacher, and has since taught in various countries worldwide. Yogita, now, is a Senior Agama Teacher. She has has taken numerous Advanced Initiations, in both Yoga & Tantra (the latter, she was empowered to teach, in 2009). She has dedicated a great deal of her time and energy, into the field of sexual healing, and empowerment in light of spirituality. Yogita loves to sing, and her voice is one of her greatest gifts. This talent, she uses, to express her devotion to the Divine with Bhakti. Additionally, she has led Bhajan circles for many years. She is extremely passionate about sharing the Tantric Teachings with women. She loves to teach "Complete Femininity", as it has truly transformed her life, and contributed to her spiritual evolution, as a woman on the Tantric Path. Trainings in Psycho-Spiritual work over the last nine years, have also greatly influenced her approach to teaching. Teaching Yoga has increased her enthusiasm for Spirituality, and made her a stronger practitioner. Yogita is eternally grateful to Swami Vivekananda Saraswati, who founded this exceptional yoga school and remains its Head Teacher. His generous heart, and dedication to teaching Yoga, have been an endless source of inspiration on her path - as a disciple and teacher herself.
Tickets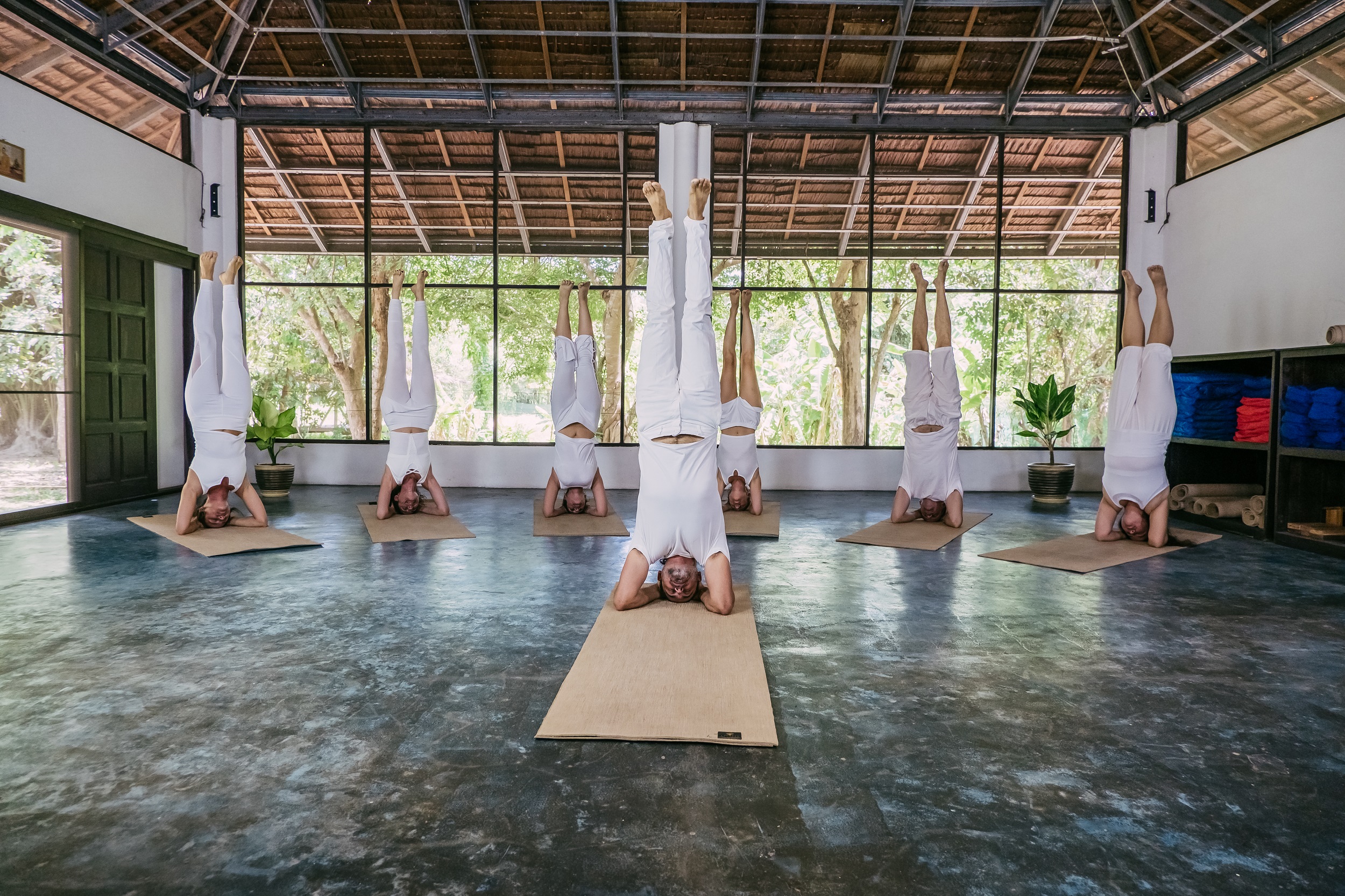 Tickets are not available for sale any more for this course!